Katherine Needleman and Philippe Tondre Appointed to Lead the Oboe Faculty
Celebrated oboists will jointly lead the department beginning in the 2022–23 school year
PHILADELPHIA, PA—April 14, 2022—The Curtis Institute of Music has appointed two renowned oboists to lead the department beginning in fall 2022: Katherine Needleman (Oboe '99) and Philippe Tondre. Ms. Needleman and Mr. Tondre currently serve as principal oboe at the Baltimore Symphony Orchestra and Philadelphia Orchestra, respectively.
"I am deeply honored and humbled to be joining the oboe faculty alongside my colleague Katherine Needleman at the Curtis Institute of Music," said Mr. Tondre. "I am very excited, after fourteen years of experiencing musical aesthetics from around the globe, to share my adventures and participate in the history of the Philadelphia Sound and Curtis. I cannot wait to start in this new role, following in the footsteps of my compatriot Marcel Tabuteau and helping the next generation of musicians bring their voice, talent, and artistry to the entire world."
Ms. Needleman and Mr. Tondre will work with Curtis students in individual lessons as well as chamber coachings. They join a distinguished roster of performers, pedagogues, and artist-citizens teaching at Curtis, including Michelle Cann, the Imani Winds, Daniel Matsukawa, Eric Owens, Yannick Nézet-Séguin, among many others.
"Since its doors first opened nearly 100 years ago, Curtis has had an important relationship with The Philadelphia Orchestra—a connection that has strengthened classical music artistry here in Philadelphia and around the world," said Mr. Nézet-Séguin, who serves as music director of The Philadelphia Orchestra and mentor conductor at Curtis. "We are thrilled to continue to nurture this longstanding relationship, as we write the next chapters in our history together."
Curtis's oboe students will have the opportunity to study with both Ms. Needleman and Mr. Tondre, gaining valuable experience in a broad array of repertoire. Students will have access to a comprehensive education they can draw upon throughout their international careers.
"This opportunity to help guide the exceptionally talented Curtis oboe students is an immense privilege and honor," says Ms. Needleman. "As a Curtis alumna, the long-held Philadelphia oboe tradition and history will always be a part of me. My distinguished colleague, Philippe Tondre, and I both realize there are numerous paths toward excellence with an oboe, and I'm excited for our work to help develop the musical and creative futures of our students."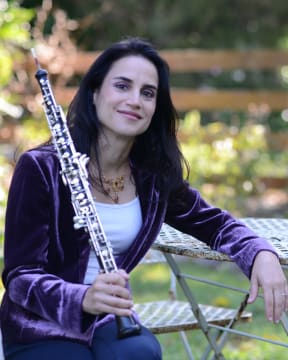 Katherine Needleman is a multi-faceted musician and native of Baltimore. She joined the Baltimore Symphony Orchestra as principal oboist in 2003, the same year she won first prize at the International Double Reed Society's Gillet-Fox Competition. In Baltimore, she also curates the "Coffee, Patisserie, and Classical Music" series, which explores the connection between composer and performer through historically marginalized music.
As soloist, she has appeared with the Saint Paul, Baltimore, and Concerto Soloists Chamber Orchestras; the Albany, Richmond, and Haddonfield Symphonies; and the Orquesta Sinfónica Nacional de Colombia, in addition to her frequent appearances with the Baltimore Symphony Orchestra. While a student at the Curtis Institute of Music, she appeared with The Philadelphia Orchestra as a winner of their Albert M. Greenfield Competition. She has performed as guest principal oboist with the New York Philharmonic, the Saint Paul Chamber Orchestra, and the symphony orchestras of Atlanta, Boston, Chicago, New Zealand, and San Diego.
Ms. Needleman has premiered and commissioned numerous works. She gave the American premiere of Ruth Gipps's Oboe Concerto, conducted and played the American premiere of Brenno Blauth's Concertino, and gave the West Coast premiere of Christopher Rouse's Oboe Concerto at the Cabrillo Festival. She gave the premiere of Kevin Puts's oboe concerto, Moonlight, at the BSO's New Music Festival with Marin Alsop and gives the West Coast premiere at the Cabrillo Festival in August 2022.
Before the 2019-2020 season was truncated by COVID-19, Ms. Needleman presented two recitals throughout the U.S.: one for oboe alone, and one for oboe and piano consisting of music by women composers. In late March 2020, she began her Lockdown Oboe Solo Concerts—a series of 11 weekly performances that included numerous premieres, broadcast from her living room to an audience of 80,000. Her works for oboe, English horn, and piano are published by Presser.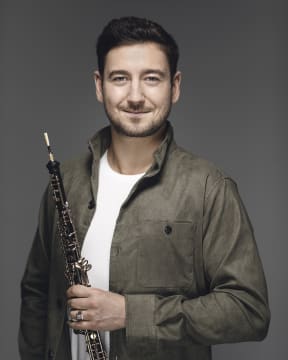 Principal oboe of The Philadelphia Orchestra, appointed by Yannick Nézet-Séguin, and of the Chamber Orchestra of Europe, Philippe Tondre is also a member of the Mito Chamber Orchestra and the Saito Kinen Orchestra with Seiji Ozawa. Born in Mulhouse, France, Mr. Tondre studied with Yves Cautrès before joining David Walter's class at the Conservatoire National Supérieur de Musique de Paris. He finished his studies with Maurice Bourgue and followed the teaching of masters such as Heinz Holliger, Nathalie Stutzmann, Jacques Tys, Jean-Louis Capezzali, and Dominik Wollenweber. At the age of 18, he was appointed principal oboe of the SWR Symphony Orchestra, a position he held until 2021. He was solo oboe of the Budapest Festival Orchestra (2014–20) and Gewandhaus Orchestra in Leipzig (2016–17) and was a guest oboist with leading orchestras including the Royal Concertgebouw in Amsterdam and the Zurich Opera.
Mr. Tondre has appeared as a soloist with prestigious ensembles such as The Philadelphia Orchestra, the Bavarian Radio Symphony Orchestra, l'Orchestre de la Suisse Romande Geneva, l'Orchestre du Capitole de Toulouse, the Osaka Philharmonic, and the Moscow Soloists. He made his debut as a soloist in the Berlin Philharmonie in 2013, accompanied by the Deutsche Sinfonie Orchester.
Mr. Tondre is prizewinner of many major international competitions, including the 60th ARD Music Competition in Munich, the 65th Geneva International Music Competition, the 9th Sony Music Foundation's International Oboe Competition Japan, the Fernand Gillet-Hugo Fox Oboe Competition USA, and the 63rd Prague Spring International Music Competition. In 2012 he received the Beethoven Ring, a musical honor given by the Beethoven Fest in Bonn, joining a prestigious list of previous recipients including Lisa Batiashvili and Gustavo Dudamel. He was also invited to appear in the ARTE television program Stars of Tomorrow hosted by Rolando Villazon.
In 2021 he joined the research and development team for Buffet Crampon Paris and has played an active part in the creation of the brand's latest model "Légende." In June 2022 he will make his debut as a soloist at Carnegie Hall with the Orchestra of St. Luke's.
Mr. Tondre also teaches at the Hochschule für Musik Saar in Germany and the Royal Northern College of Music in Manchester, England. He has recorded for BR Klassik, France Musique, SWR Classic, and Klarthe France.
The Curtis Institute of Music educates and trains exceptionally gifted young musicians to engage a local and global community through the highest level of artistry. For nearly a century Curtis has provided each member of its small student body with an unparalleled education alongside musical peers, distinguished by a "learn by doing" philosophy and personalized attention from a faculty that includes a high proportion of actively performing musicians. With admissions based solely on artistic promise, no student is turned away due to financial need. Curtis invests in each admitted student, ensuring no tuition is charged for their studies and they enter the profession free from educational debt. In a typical year, Curtis students hone their craft through more than 200 orchestra, opera, and solo and chamber music offerings in Philadelphia and around the world. Learn more at Curtis.edu.
# # #
Press Contact:
Patricia K. Johnson
Vice President of Communications and Public Affairs
patricia.johnson@curtis.edu
One of the world's most celebrated pianists, Curtis alumna Yuja Wang ('08), is garnering praise and making splashy headlines once again for what The New…
PHILADELPHIA, PA—April 14, 2022—The Curtis Institute of Music has appointed two renowned oboists to lead the department beginning in fall 2022: Katherine…
PHILADELPHIA—December 1, 2021—The Curtis Institute of Music and 92Y announce today a first-of-its kind collaboration, entitled Curtis at 92Y. This new relationship…