Curtis Mourns the Loss of Composer Ned Rorem ('44)
The Pulitzer Prize-winning composer served on the Curtis composition faculty from 1980 to 2001
The Curtis Institute of Music mourns the loss of alumnus, longtime faculty member, and Pulitzer Prize-winning composer Ned Rorem (Composition '44). The celebrated composer and prolific writer died on November 18, 2022, at his home in Manhattan, at age 99. Once praised by Time magazine as "the world's best composer of art songs," Mr. Rorem received a GRAMMY Award and wrote three symphonies, four piano concerti, and various other orchestral works.
Over the past eight decades, he has composed ten operas, music for numerous combinations of chamber instruments, choral works of every variety, ballets and other music for the theater, and hundreds of songs and cycles. He is also the author of sixteen books, including five volumes of candid diaries and collections of lectures and criticism.
Mr. Rorem was born in Richmond, Indiana, on October 23, 1923. As a young child, he moved to Chicago with his family, and at age ten, his piano teacher introduced him to the music of Ravel and Debussy, which the composer noted: "changed my life forever." He entered the Music School of Northwestern University at seventeen, and then enrolled in Curtis to study composition with Rosario Scalero. After graduating from the school in 1944, he continued his studies at Juilliard, receiving his B.A. in 1946 and his M.A. degree in 1948. During his lifetime, he received numerous honorary degrees.
Recipient of a prestigious Fulbright Fellowship (1951), a Guggenheim Fellowship (1957), and an award from the National Institute of Arts and Letters (1968), Mr. Rorem won the 1976 Pulitzer Prize in music for his suite Air Music.
He received the ASCAP-Deems Taylor Award in 1971 for his book Critical Affairs, A Composer's Journal, in 1975 for The Final Diary, and in 1992 for an article on American opera in Opera News.  In 1998 he was named Composer of the Year by Musical America, and the following year, in 1989, the Atlanta Symphony recording of the String Symphony, Sunday Morning, and Eagles received a GRAMMY Award for Outstanding Orchestral Recording.
Mr. Rorem served as president of the American Academy of Arts and Letters from 2000 to 2003. In 2001, he was named a Chevalier de l'Ordre des Arts et Des Lettres by France for his contribution to the enrichment of French cultural inheritance. In 2003 he was awarded the Gold Medal in Music, for an entire body of work, by the Academy of Arts and Letters; and also received ASCAP's Lifetime Achievement Award.
Among his countless commissions are those from the Ford Foundation (for Poems of Love and the Rain, 1962), the Lincoln Center Foundation (for Sun, 1965); the Koussevitzky Foundation (for Letters from Paris, 1966); the Atlanta Symphony (for the String Symphony, 1985); the Chicago Symphony (for Goodbye My Fancy, 1990); and from Carnegie Hall (for Spring Music, 1991).
In 1993, André Previn joined Gary Graffman and the Curtis Symphony Orchestra for the world premiere in Philadelphia of Mr. Rorem's Piano Concerto No. 4 (for left hand). The work was dedicated to Mr. Graffman, whose subsequent performance at Carnegie Hall was described by the New York Times as "electrifying."
Mr. Rorem's most recent opera, Our Town, which he completed with librettist J.D. McClatchy, was a setting of the acclaimed Thorton Wilder play of the same name. The work premiered at the Indiana University Jacob's School of Music in February 2006 and has gone on to be performed at various conservatories, music schools, and opera companies. In 1965, his opera Miss Julie premiered with the New York City Opera, and was presented by the Curtis Opera Theatre in 2003, recorded live, and released through Albany Records and called "essential for Ned Rorem enthusiasts and anyone who wants to know his music better," by American Record Guide.
The composer's monumental work, his evening-length song cycle Evidence of Things Not Seen, was performed at Curtis in 2003 as part of the school's two-week festival, Roremania, celebrating Mr. Rorem's 80th birthday. Roremania events also included performances of his opera Miss Julie, chamber works, organ pieces, and choral works.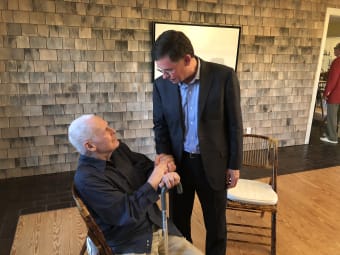 As he approached his next milestone birthday, he told The Philadelphia Inquirer: "Other people turn 90, I still think of myself as the youngest person at the party."
The Curtis community extends our heartfelt condolences to Mr. Rorem's relatives, close friends, colleagues, and former students.
---
You can find tributes to Mr. Rorem's life in The Washington Post HERE and the New York Times, among many others.
Photo credit: 1.) Banner image from the NYPR Archive Collections. 2.) Portrait of Ned Rorem by Christian Steiner. 3.) Ned Rorem following a 1982 commencement address. L-R John de Lancie ('40), Ned Rorem ('44), A. Margaret Bok, Vladimir Sokoloff ('38), Richard Zuch; Curtis Archives. 4.) Andre Previn and Ned Rorem during a Curtis Symphony Orchestra rehearsal for the world premiere of Rorem's Piano Concerto No. 4 on February 4, 1993, commissioned for Gary Graffman; David Swanson. 5.) Ned Rorem with Curtis president and CEO Roberto Díaz during a Curtis on Tour visit to Nantucket island in 2018. 6. Portrait of Ned Rorem by Christian Steiner/Boosey & Hawkes.
The Curtis Institute of Music recently announced the launch of Curtis Studio, an exciting new recording label featuring the artistry of notable…
The 62nd Annual Musical America Awards take place this Sunday, December 4, 2022, at 4:00 p.m. ET and Curtis alumna, internationally acclaimed…
Season 17 of WHYY's acclaimed On Stage at Curtis series continues with a portrait of double bassist Marguerite Cox. The Robert Montgomery…