Curtis Mourns the Death of Nina Baroness von Maltzahn
Former board chair, trustee, donor, and friend helped to transform Curtis
With profound sorrow, Curtis announces the passing of Nina Baroness von Maltzahn, our ardent advocate, devoted benefactor, and beloved friend. Nina von Maltzahn died on Sunday, May 22, at her home in Uruguay, at the age of 81.
Born in New York City, educated in Geneva, and having called both Berlin and Montevideo home, Nina was the epitome of a global citizen. She cared deeply about many causes, especially education. She founded the Fundación Retoño, a nonprofit organization that addresses educational inequities in Uruguay, and served on the boards of the American Academy in Berlin and Singakademie Berlin, and was the founder of One Child, One World, a community-based organization in Athens.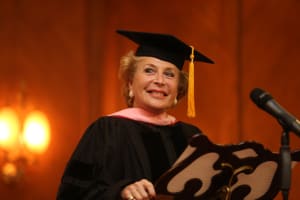 Nina was first introduced to Curtis in 2007 by Robert Mundheim and she later recalled that she was "immediately taken with Curtis—the love with which people talked about it. It was a little jewel." Nina was devoted to Curtis—generous with her time, leadership, spirit, and resources. She was passionate about our school, our people, and our mission.
Nina von Maltzahn's extraordinary generosity to Curtis is impossible to miss. Over her 15-year relationship with our school, she endowed a staggering number of programs and positions: faculty chairs in guitar and violin; the president's chair; a student fellowship; the string quartet program; the harp studio in Lenfest Hall; and, of course, Curtis on Tour. Through her leadership and support, Nina helped to foster excellence at Curtis; she brought Curtis to the world and the world to Curtis.
Nina joined Curtis's board of trustees in 2010 and was unanimously elected chair in 2014, serving in that capacity until 2016. Throughout those six years, she continually demonstrated her boundless energy and passion for our students and our school's educational and artistic vision. Last year, Nina was named chair emerita in recognition of the magnitude of her service to our school and community.
"It is impossible to overstate Nina's impact on our school and our community," says President and CEO Roberto Díaz, who holds the Nina von Maltzahn President's Chair. "Although she will be hugely missed, she will never be forgotten—Nina is an indelible part of our school and our hearts."
We extend our heartfelt condolences to Nina von Maltzahn's family and friends—especially her husband Baron Lothar von Maltzahn.
Curtis is working on planning an event to honor the memory of Nina Baroness von Maltzahn. Additional information will follow as soon as it is available.
From the Spring 2022 Issue By Bruce Hodges Curtis's historic 1726 Locust Street home is better than ever. Bruce Hodges surveys the…
From the Spring 2022 Issue By David Patrick Stearns Curtis's innovative Immersive Scheherazade multimedia production places the listener in the middle of…
From the Spring 2022 Issue By Vivien Schweitzer Imani Winds began its 25th year by embarking on a new role as Curtis's…